Reliable, robust and compact to cater to dental practices with limited space—this is Model One 200, the latest dental chair unit from Diplomat Dental. This version takes dental practices to a new level of service excellence.
Model One 200 has a floor-mounted cabinet and a floating chair. It is positioned in the Diplomat product portfolio alongside Model One 100, which has similar characteristics but a different configuration, the cabinet being connected to the chair with integral and synchronised movement.
Being very compact, Model One 200 is suitable for even the smallest dental rooms. The chair's lifting mechanism provides a wide range of movement (it can be lowered close to the floor and raised considerably for standing treatments), supporting improved ergonomics. In addition, the lifting system is quiet and robust and can lift up to 200 kg in weight, like Model One 100, making both products an excellent choice for practices with a high volume of patients.
The guiding principle for the research and development team that created Model One 200 was "One for many tasks, one for many years", with the goal of creating a unit that minimises failure and lasts for a long time. The device's working life is indeed long, as it incorporates materials and technologies known from Diplomat's top-tier dental units.
Model One 200—a business development partner
Model One 200 was created for dentists who are interested in using the newest technologies but want to fully concentrate on patient care, without worrying about another unit breakdown and practice disruption. By using premium materials and technologies from its Model Pro series, Diplomat has developed solutions that minimise breakdowns and shorten maintenance time, saving the dentist time and costs. The longer operational lifespan maximises return on investment and delays the need for costly unit replacements. The advanced technologies applied in Model One 200 streamline daily duties, enabling the handling of more patients with precision and speed and thus increasing the economic efficiency of the practice. All of this significantly boosts the morale and productivity of the team, who can focus solely on delivering exceptional patient care.
"Model One 200 is a partner worth the investment. Its reliability of protects dental practices from financial disruption caused by unexpected equipment failures and associated costs. Longevity ensures that the investment continues to yield returns well beyond the initial purchase, reducing the need for frequent reinvestment. The efficient Model One 200 directly contributes to an increased number of patients and patient throughput and, consequently, higher practice earnings," emphasised Diplomat Dental's CEO, Tomas Nerad.
Choose your variant
Model One 200 has an innate and accessible elegance. The design is built on simple geometric lines but also on extremely solid ergonomic guidelines to allow for comfortable working in all treatment positions, regardless of whether working with direct vision or under magnification.
It provides a wide range of customisation options with endless configuration possibilities to meet the needs of any dentist. For example, the unit is controlled via an interface, and the advanced version—including the One Plus control panel—offers users a full-colour display with an integrated endodontic program. Model One 200 can also be equipped with automatic and integrated hygiene functionalities to flush instrument and suction hoses with disinfectant agents.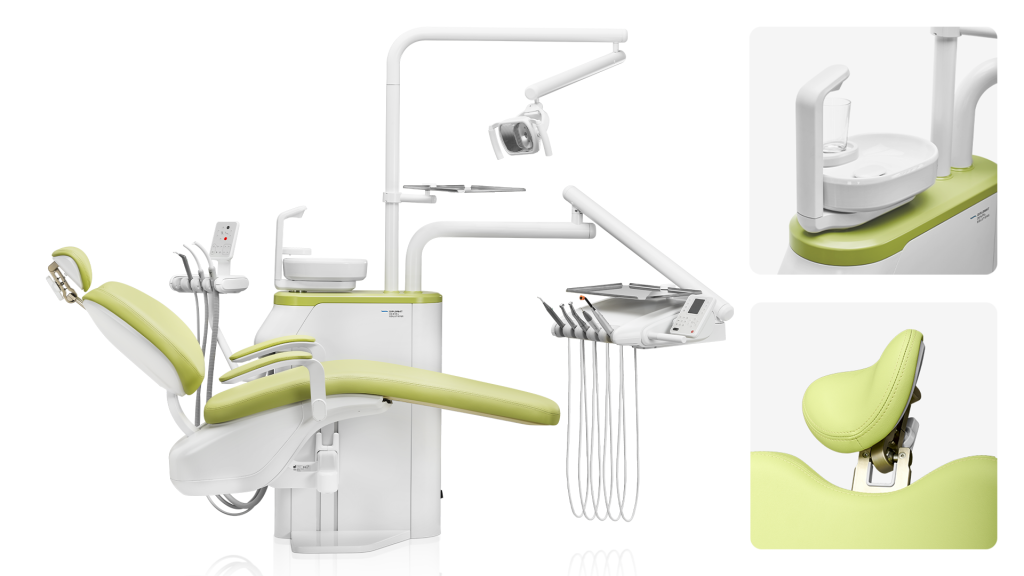 Like Model One 100, Model One 200 can be equipped with wet and dry suction systems, rotating or fixed cuspidor, manual or automatic suction hose regulation, and 2D or 3D headrests. A new addition is the SWING foot control, a horizontally operated multifunction pedal for controlling the instruments, chair and water unit. Importantly, dentists can freely configure the colour scheme of the entire unit and can choose from over 70 upholstery colours and three different types of upholstery, from the simplest to the most sophisticated and comfortable.
Another ace up Diplomat Dental's sleeve
Diplomat's top priority is delivering reliable products with broad individual configuration possibilities, timeless design and competitive prices. Model One 200 complements Diplomat's range of units, which have enjoyed unwavering trust from dentists on almost every continent for several years. Today, the Slovak manufacturer's portfolio consists of three lines: Classic Line (Model One 100, Model One 200), Comfort Line (Model Pro 500, Model Pro 600) and Premium Line (Model Pro 700, Model Pro 800).